Data-driven decision-making is science and art.
Joined

Mar 8, 2010
Messages

68,089
Reaction score

22,796
Points

113
Location
​
THE 2022 DRAFT CLASS​
This has been a really weird year in so many different ways—and a little bit of that weirdness is going to spill into the 2022 draft cycle.
Each year, National Football Scouting, one of two services used by NFL teams, releases its draft grades for the following April's class in June. And normally, those grades only include the fall's seniors and no underclassmen—not even the ones that everyone knows are coming out. Well, this year, things are complicated by the NCAA's decision to give every player an extra year of eligibility in exchange for either playing or sitting out 2020.
So as we present, like we do every spring, the highest NFS-graded players going into the season, we have to do it with a caveat. Some fourth-year juniors are in here. So are some seniors and fifth-years who are able to return in 2022, if they so please. And some of that is based on whether schools helped the scouting service, and wanted their players to be part of the list.
With that in mind, here's the NFS Top 20 going into the season.
1)
Adam Anderson, OLB, Georgia:
Anderson is 6' 5", 230 pounds, and was third on the team in pressures in 2019 (18) and second last year (24). The former five-star high school prospect also played extensively as a true freshman, and the combination of upside and position value will have NFL eyes on him in the fall.
T-2)
Aidan Hutchinson, DE, Michigan:
A fractured ankle cut Hutchinson's junior season short, but the 6' 6", 269-pound edge defender was third-team All-Big Ten as a true sophomore in 2019, and strongly considered coming out after 2020, despite the fact that he'd have gone into the predraft process injured.
T-2)
Roger McCreary, CB, Auburn:
An All-SEC honorable mention corner last year, his first as a starter, McCreary has 21 passes defensed the last two years, and has flashed impressive flexibility that positions him as a real 21st century defensive back.
T-4)
Matt Corral, QB, Ole Miss:
I don't think Corral, at the end of the process, is going to be a first-round pick. But seeing him this high after an up-and-down first season under Lane Kiffin certainly got my attention.
T-4)
Brandon Smith, LB, Penn State:
Micah Parsons's opt-out opened the door for Smith to blow up in 2020—and he flashed potential as a traditional linebacker, as a pass-rusher and in coverage. That he's on this list going into his true junior season tells me that he's very much got his eye on the NFL.
6)
Trevor Penning, OT, Northern Iowa:
Kurt Warner's alma mater has built an NFL pipeline of late, and it's at least interesting that 2021 third-round pick Spencer Brown, now on the Bills, was kept on the right side by Penning. Penning's headed into his fifth year and will be coming off an abbreviated spring season in the fall.
7)
Daniel Faalele, OT, Minnesota:
The Australian is 6' 9", 400 pounds and started in 2018 and '19 before opting out last year. He should be one of the really fun stories of the '22 draft cycle.
T-8)
Charlie Kolar, TE, Iowa State:
A Mackey Award finalist in 2020, Kolar's another find from Matt Campbell's program. He has size and athleticism, has been an All-America two years running and was one of a number of guys who came back because Campbell did.
T-8)
Chris Olave, WR, Ohio State:
A two-time All-Big Ten selection, Olave very nearly came out last year. And if he had, he likely would've been battling Kadarius Toney, Rashod Bateman and Elijah Moore for position among the class's second tier at receiver. Instead, he's returning to Columbus with a shot to go higher than those guys did.
10)
Ali Gaye, DE, LSU:
At 6' 6" and 262 pounds, Gaye made an immediate impact as a junior college transfer, and he has a shot to take things to another level in 2021, given his athletic potential.
11)
Jalen Tolbert, WR, South Alabama
.
T-12)
Jahan Dotson, WR, Penn State
.
T-12)
Jermaine Johnson, DE, Florida State.
14)
D'Vonte Price, RB, Florida International
.
15)
Akayleb Evans, CB, Tulsa
.
16)
Sevyn Banks, CB, Ohio State
.
T-17)
R.J. Roderick, S, South Carolina.
T-17)
Jeremy Ruckert, TE, Ohio State
.
T-17)
Alontae Taylor, DB, Tennessee
.
T-17)
Perrion Winfrey, DL Oklahoma
.
And, again, there are a good number of really good names—Oregon DE Kayvon Thibideaux, LSU CB Derek Stingley, Alabama OT Evan Neal—that figure to go really high but aren't on this list, because they're juniors. But at the very least, the NFS grades can serve as a starting point for teams on the class to come. (Which is why I'm passing it along.)
.........................................................................................................
Mac Jones's progress is worth noting.
And the feedback I've gotten on Jones is that he's what the Patriots thought they were getting when they took him 15th—which is to say he's a heady field general, if somewhat limited physically. But I would
not
make much of who he's lined up with during the spring. More than a couple of people who know that program well, both in reference to Jones and other guys, have mentioned to me how Bill Belichick works reps this time of year. And really, it reflects that the Patriots aren't in a spot where it's "competitive" for jobs yet. Belichick uses May and June for teaching, fundamentals and conditioning, and mixes and matches players throughout. And he's never been above using the sessions that are open to the media for his own purposes. The real test, to me, was always going to be in training camp, and more specifically when the pads go on. If Jones is out there with the first offensive-line group then, even if it's just a percentage of those snaps, then I'd say we know something is afoot. And my sense right now is that Jones has done enough in the spring to merit a real competition with Cam Newton in the summer.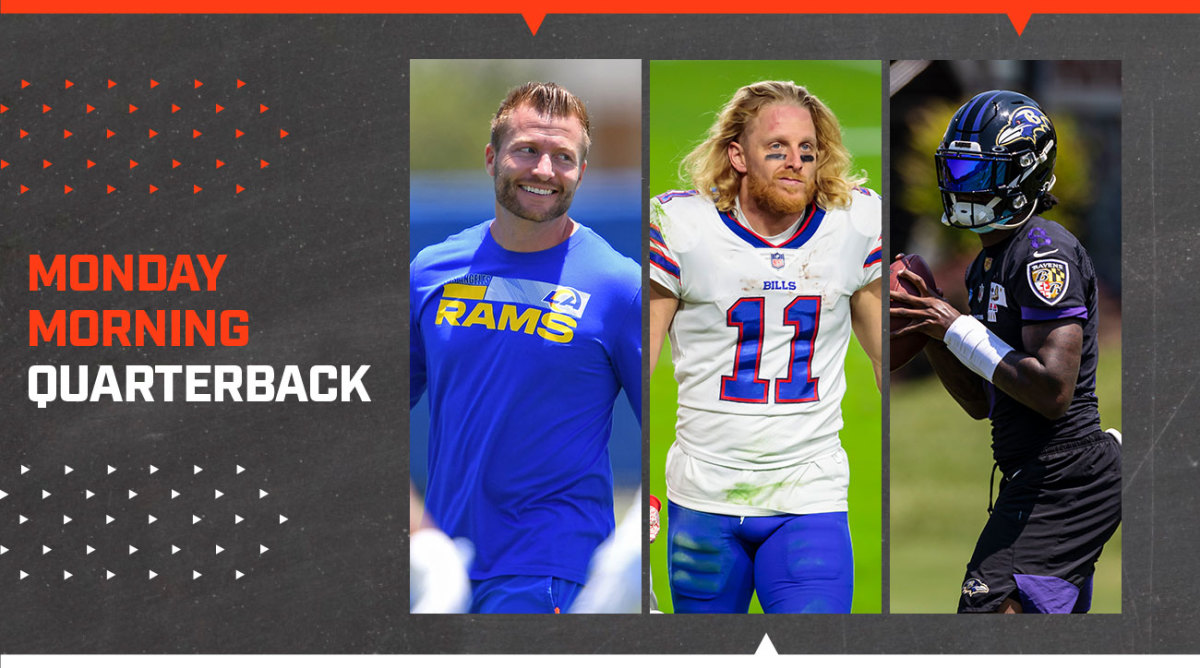 The Rams' coach is still the youngest in the NFL, as he enters what's unofficially the second phase of his career.
www.si.com